Mónica L. Villalta, M.P.H.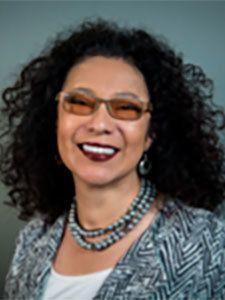 Monica L. Villalta is the Chief Diversity Strategist at I.D.E.A.S. &Action – a DEI Consultancy based in the DC metro area.  Monica has over 25 years of experience as a cultural competence expert as well as a diversity and inclusion leader with multiple roles in both the public and private sector where she has managed health care programs, monitored policy and exercised leadership roles developing and deploying programs and change initiatives.
Prior to her role at I.D.E.A.S. &Action, Monica was the National Director for Inclusion and Diversity Officer at the National Alliance on Mental Illness.  In this inaugural role, Monica brought her corporate expertise and science-based know-how to deploy best practices. Working with the DEI Council and Board committee on DEI, she initiated a holistic approach and the required infrastructure for DEI. 
As Chief Diversity Officer at the American Institutes for Research (AIR), Villalta established the new role leading diversity, inclusion and cultural competence efforts and developed organization-wide strategic approaches that adhered to recognized best practices and benchmarks.  At Kaiser Permanente (KP) of the Mid-Atlantic States, she led the regional Diversity Programs Department to ensure implementation of national and local strategy and ensure compliance in cultural and linguistic competence.
She was Director of Programs a Mary's Center for Maternal and Child Care and remains connected to their work and the work of other organizations serving the local community.  Earlier in her career Monica worked in youth-run grant making, was a professional girl scout and a trustee of the DC Consumer Health Foundation. 
Monica has a Master of Public Health from UC Berkeley, a Business Degree from the University of Maryland and leadership certificates from Harvard University and the Center for Creative Leadership.  She is an Annie E Casey Foundation and National Hispana Leadership Institute Fellow.  
Monica enjoys salsa dancing, theater and the opera.