Mmasekgoa Masire-Mwamba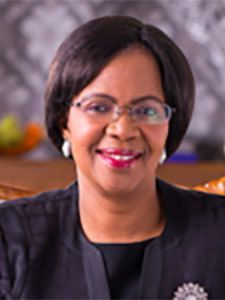 Mmasekgoa Masire-Mwamba is a Botswana national with high-level experience in Private sector, Government and Inter-Governmental diplomatic environments. She has a unique set of skills combining science, business, law and diplomacy, Leveraging these disciplines, she is well positioned to address issues through a multifaceted approach. Her academic qualifications include a Bachelor of Science, a Bachelor of Laws Degree a Masters in Business Administration and most recently an completed an Executive Management Development Program.
Mmasekgoa served as Deputy Secretary General for the Commonwealth Secretariat over two terms, where she provided leadership in a complex, multicultural organisation and engaged extensively with Governments from 53 countries. She has in the process gained a wide network and broad-based contact arena.  Her role enabled her to contribute meaningfully in promoting governance and the rule of law, human rights, and political issues, whilst appreciating education as a major development requirement across the diverse membership. Her diplomatic experience, and exposure allow her to add value, to influence and to facilitate effective dialogue and collaboration.
In November 2015, Mmasekgoa represented Botswana as the Africa candidate at the elections for the position of Commonwealth Secretary General. At all levels she actively championed building consensus and navigating the meetings and interventions to realise tangible, solutions oriented outcomes.
Prior to the Commonwealth, she was the Chief Executive Officer of Botswana's Investment Promotion Agency (BEDIA); there she achieved consistent growth for the organization and facilitated key projects in the energy, manufacturing and services sectors. Mmasekgoa embraced the challenge and responded to Botswana's pressing need to diversify the economy. She spearheaded the development of strategic initiatives and supporting structures to advance and accelerate this transformation. Mmasekgoa is married to Bishop Trevor Mwamba and has a son Eno and twin daughters Seneo and Lukwesa.