Rohini Anand, PhD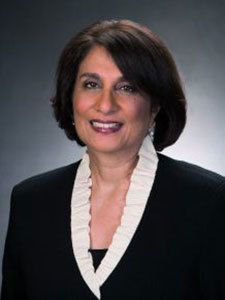 Dr. Rohini Anand is a Senior Diversity, Equity and Inclusion (DEI) advisor. Most recently she was SVP Corporate Responsibility and Global Chief Diversity Officer for Sodexo. She reported to the Global CEO and was a member of Sodexo's North America Executive Committee. Rohini successfully positioned Sodexo as a global thought leader in DEI and Corporate Responsibility. Sodexo's remarkable global culture change, led by diversity and inclusion, is featured in a Harvard Business School case study entitled.  Shifting the Diversity Climate: the Sodexo Solution. 
Widely considered as a leading expert on organizational transformation, corporate responsibility and diversity and inclusion, Dr. Anand is a published author and has been featured in several articles including articles published in CNBC, The Boston Globe, The New York Times, and the Washington Post. Rohini has appeared on CNN, Bloomberg and CNN Money as well on National Public Radio. She is the recipient of many accolades including the Mosaic Woman Leadership Award, the Women's Foodservice Forum Trailblazer Award, the Maryland International Business Leadership Award, the American Institute for Managing Diversity's Individual Leader Award, Webster University's Women of Influence Award, the Who's Who in Asian American Communities Award (WWAAC), Ascend's inaugural Excellence in Diversity & Inclusion Award, and the Diversity Leadership Star Award by Diversity Woman.  
Dr. Anand received her PhD from the University of Michigan. She serves on the boards of several organizations including WomenLift Health a Gates Foundation initiative, Aspen Institute's Family Prosperity initiative, Tent Partnership for Refugees, Galt Foundation, Community Wealth Partners, and Sodexo's Stop Hunger Foundation. She also serves on the Charter Communications External Diversity and Inclusion Council and chaired the Catalyst Board of Advisors. Rohini is a Senior Fellow with the Conference Board and is a member of their Diversity and Inclusion Institute.  
rohinianand1121@gmail.com 
Web site: https://www.rohinianand.com; 
LinkedIn: https://www.linkedin.com/in/rohinianand