Jennifer "Jae" Pi'ilani Requiro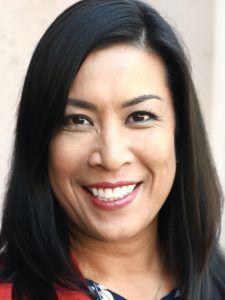 Jennifer "Jae" Pi'ilani Requiro is the Vice President of Diversity, Equity, and Inclusion for AEG. In this role, she develops, implements, and drives the DEI strategy. Prior to this role, Jae served as the Director of Global Diversity and Inclusion at both Thermo Fisher Scientific and Toyota Financial Services. In 2016, Jae wrote the Foreword to a best-selling business book on diversity and inclusion by Jennifer Brown, "Inclusion: Diversity, The New Workplace, and The Will to Change".
Outside the office, Jae lives her passion, serving as a Sensei at a karate studio in Southern California. The dojo's teaching philosophy focuses on the principles of respect, discipline, and self-defense. And the dojo has earned a reputation as a nurturing and safe space for students with special abilities to thrive. Jae encourages her students to find their "ikigai". Ikigai is a Japanese concept that means "a reason for being." 
Jae serves on the national non-profit board of directors for the Asian & Pacific Islander American Health Forum (APIAHF). Jae is co-chair for the APIAHF Business Leadership Circle which works toward positively addressing the unique and complex challenges facing AAs and NHPIs, while simultaneously creating value for their partners' brands and businesses.
Prior to AEG, Jae was the Director of Global Diversity and Inclusion at Thermo Fisher Scientific. Her responsibilities included D&I education, D&I consultation, and employee resource groups. She started her career at Toyota, building and implementing their diversity and inclusion strategy. Her responsibilities included D&I education, executive accountability, mentoring and employee resource groups. Jae also developed strategies to enhance Toyota's corporate reputation and increase partnerships with certified diverse suppliers. She has presented at several conferences, workshops and educational forums sharing insights on employee resource groups and generational diversity.
In May 2014, Jae received the California Multicultural Leadership Award from the National Diversity Council. Jae earned a bachelor's degree in sociology with a specialization in stratification, race, and ethnicity and an emphasis in business from UCLA. In her spare time, Jae performs hula, paddles outrigger canoes and is a single mother to a college-aged daughter, her source of inspiration and perspiration.
Contact information:
LinkedIn: www.linkedin.com/in/pjreguiro