Shawndra Cox (she/her/hers)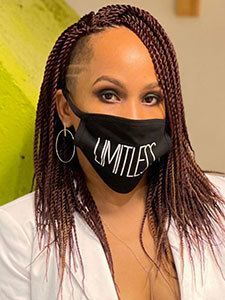 Shawndra offers creative services including graphic design, branding, videography, and creative direction as a contractor to The Centre.  For the past decade,  Shawndra  Cox has garnered a reputation as a highly reliable and capable graphic designer, videographer and source for all things branding. As the founder and lead designer for Out Of Proportion Studios, Shawndra  has worked with brands such as Ace Hardware, BET, Myx Fusions Moscato, and Carol's Daughter. When it comes to her position at The Centre for Global Inclusion, Shawndra brings agency level strategy and design on a grassroots budget with little to no sacrifice in between.
Shawndra's  journey to The Centre began with rebranding and designing the 10th Anniversary Edition of the Global Diversity & Inclusion Benchmarks (GDIB). Learning what the GDEIB had to offer,  Shawndra  quickly found herself immersed  in the world of DEI for the first time. A spark was ignited and continued to light her way to The Centre for Global Inclusion where she now enjoys the challenge of creating well designed, accessible documents and websites for all to unravel.